It's Tea Time!
Money can't buy happiness….but, it can buy you tea, and that's pretty much the same thing
Each tea blend is full of flavor and packed with wellness. We intentionally have a narrow and focused selection of world-class tea blends. You will appreciate the complex flavor and benefits in each cup of tea.

Our Specialty Blends will WOW your senses. Fan favs include Toasted Almond, Earl Grey Brûlée, and Wild Strawberry Hibiscus.
Our Wellness Blends will join you on your journey to health. Try our Turmeric Ginger Chai, Mystic Mint Detox, and Immuni-Tea, our flagship blend.
Our Sip Buddies will keep you company at teatime. Check out Lil' Miss Teapot, our Bio-Sip fillable teabags, long-stem authentic Chinese teaspoons, and stainless steel mesh infusers.
Snag a gift pack for you and a friend! You'll enjoy your favorite tea blend, a long-stem wooden Chinese teaspoon, and 100 fillable teabags. Simply select the "gift pack" option while shopping any tea blend. Just add water!
New Addition!
Lil Miss Teapot has arrived!
Sassy and spunky, and just as cute as she could be.
She's about the size of a coffee mug, but makes a mean cup of tea that's sure to turn the head of any coffee drinker.
Elegant for your home. Convenient for your work. Great gift for that special someone.
See below for Details.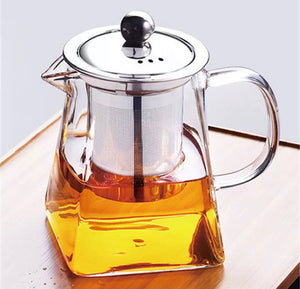 Lil' Miss Teapot
Sale price Price $23.99 Regular price
Wellness Blends
Stay Healthy All Year Round with our Wellness Blends.
Ancient Egyptians used Chamomile for its calming effects. Drift Away is a perfect bedtime blend and a go-to when you just need a break.
Check out this video of some customers enjoying tea their way!
From Exotic Lands To Your Cup