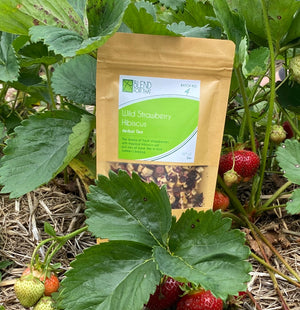 Wild Strawberry Hibiscus
Sale price Price $11.99 Regular price
The aroma of fresh strawberries with tropical hibiscus will put you at ease like a nice summer's breeze.
Hibiscus has been used for hundreds of years across the globe. In Africa, hibiscus tea was used to treat cold symptoms and a paste made from the leaves to heal the skin. The Egyptians believed the tea helped promote a healthy heart and circulatory system. In modern times, hibiscus tea is often used to help with weight management and muscle recovery.
Our Wild Strawberry Hibiscus holds the perfect sweet/tart balance. It is delicious hot and makes a fantastically refreshing iced herbal tea.
Sipping Guide: Infuse 1-2 teaspoons in 8 ounces of hot water. Steep 4-5 minutes. Multiple infusions are encouraged
Delightful Taste Tips: Enjoy it hot or over ice
Ingredients: Hibiscus Flowers, Rose Hips, Apple Pieces, Natural Strawberry Flavor, Strawberries, Raspberry Leaves
Caffeine: Naturally Caffeine Free
Diet Pairing: Intermittent Fasting, Keto, Paleo, Vegan
These statements have not been evaluated by the FDA. This product is not intended to diagnose, treat, cure, or prevent any disease.