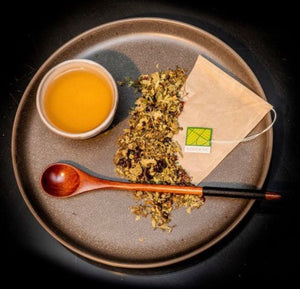 Mystic Mint Detox
Sale price Price $9.99 Regular price
Relax your mind while easing the effects of stress on the body with this naturally caffeine-free daily detox blend. The refreshing mint flavor makes this an enjoyable companion on your journey toward meeting your fitness goals or maintaining vibrancy.  
Unlike other detox teas high in caffeine, the herbs in this blend can help rid the body of environmental toxins, reduce inflammation, ease anxiety and help with weight loss all without overstimulating, making it a perfect fit anytime of day.
As an adaptogen, the lead ingredient, Holy Basil (Tulsi), has been used for centuries in Chinese and Ayurvedic practices to counteract the many emotional and physical effects of stress on the mind and body. This blend is highly recommended for those seeking to reduce anxiety, detoxify their body and maintain radiance.
Delightful Taste Tip:  Enjoy it as it comes
Sipping Guide: Infuse 2 teaspoons in 8 ounces of hot water just under boiling. Steep for 5-7 minutes. Enjoy 2 cups per day.
Ingredients: Holy Basil, Spearmint, Rosehips, Lemon Myrtle, Linden Blossoms
Caffeine: Naturally Caffeine Free
Diet Pairing: Intermittent Fasting, Keto, Paleo, Vegan
These statements have not been evaluated by the FDA. This product is not intended to diagnose, treat, cure, or prevent any disease.