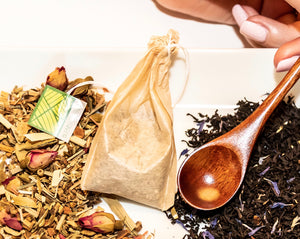 Bio-Sip Fillable Teabags
Sale price Price $7.99 Regular price
Take control over over your tea time by saying "No" to pre-measured teabags. With Bio-Sip teabags, simply add tea based on your strength preference, and enjoy tea your way.
Bio-Sip teabags are fully compostable, unbleached without glues or dies. They make the perfect sip buddies at home, at work or on the go.
Follow the Sipping Guide for recommendations on how much to add for each blend. Feel free to press the teabag against the side of your cup while steeping to squeeze out all the goodness.
Fill. Steep. Sip. Repeat. 
Each pack contains 50 teabags