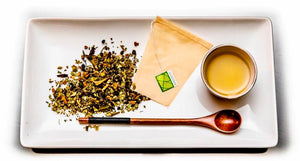 Immuni-Tea
Sale price Price $14.99 Regular price $17.99
Immuni-Tea unlocks the power of the best immune-boosting herbs from around the world. Enjoy this blend just the way nature intended with 100% organic ingredients to help get you through any season. 
This blend steeps a refreshingly smooth cup delicate enough to enjoy multiple times a day to keep you at your best. Chinese White Peony with a nice touch of Peppermint, Ginger and Elderberries take center stage, while other powerful herbs work hard in the background.
The creation of this blend was the genesis of Blend For That. It is a must in your daily health regimen!
Delightful Taste Tip: Add a touch of honey for heaven in a cup!
Sipping Guide: Infuse 2-3 heaping teaspoons in hot water just under boiling. Steep for 5-7 minutes. Enjoy the flavor change over multiple infusions
Ingredients: Organic Chinese White Peony, Organic Elderberries, Organic Cinnamon Chips, Organic Ginger Root, Organic Peppermint Leaves, Organic Lemon Balm, Organic Echinacea
Caffeine: Low
Diet Pairing: Intermittent Fasting, Keto, Paleo, Vegan
These statements have not been evaluated by the FDA. This product is not intended to diagnose, treat, cure, or prevent any disease.