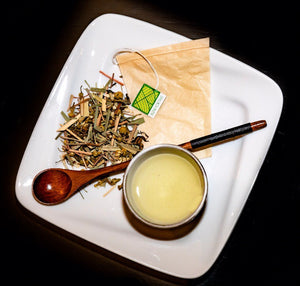 Drift Away
Sale price Price $9.99 Regular price
Feel your troubles of the day drift away with sweet uplifting floral notes from fresh chamomile paired with zesty lemongrass and refreshing peppermint.
The use of Chamomile as an herbal remedy dates back to ancient Egypt. Chamomile is now used as a natural way to ease anxiety and induce sleep. It's special antioxidant called apigenin is believed to be behind the calming and sedative effects.
This relaxing herbal blend is perfect just before bed, but it can ease your tensions anytime.
Delightful Taste Tip: Enjoy it as it comes
Sipping Guide: Infuse 1-2 heaping teaspoons in hot water just under boiling. Steep for 5-7 minutes
Ingredients: Chamomile, Lemongrass, Peppermint
Caffeine: Naturally caffeine-free
Diet Pairing: Intermittent Fasting, Keto, Paleo, Vegan
These statements have not been evaluated by the FDA. This product is not intended to diagnose, treat, cure, or prevent any disease.