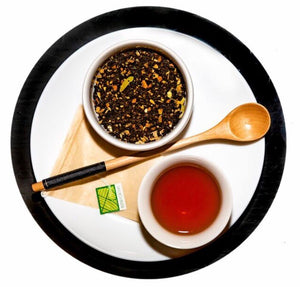 Turmeric Ginger Chai
Sale price Price $10.99 Regular price
Stimulate your senses, help support your immune system and fight toxins with this spicy yet calming blend of turmeric, ginger and other spices.
Native to tropical South Asia, ginger and turmeric have been used as tonics for thousands of years. Turmeric has gained in popularity recently for claims of being it being effective at helping the body fight free radicals and reduce inflammation.
Research has found that the curcumin (the yellow color) is the substance that can can help keep the body healthy. Further research has shown that when combining turmeric with black pepper, the absorption rate of curcumin increases by 2,000%...yes, pepper is among the ingredients.
Chai teas are usually best served with milk and raw sugar.
Delightful Taste Tip: Add a splash of milk and raw sugar
Sipping Guide: Infuse 2-3 heaping teaspoons in hot water just under boiling. Steep for 4-5 minutes
Ingredients: Organic Black Tea, Organic Turmeric, Organic Ginger, Organic Cinnamon, Organic Pepper, Organic Cardamom, with Natural Cardamom, Natural Clove & Natural Vanilla flavors
Caffeine: Medium
Diet Pairing (without adding milk or sweeteners): Intermittent Fasting, Keto, Paleo, Vegan
These statements have not been evaluated by the FDA. This product is not intended to diagnose, treat, cure, or prevent any disease.