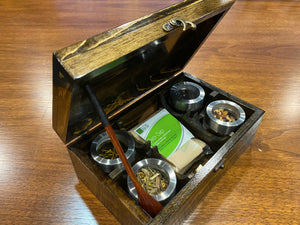 Bliss Blends Tea Box
Sale price Price $79.00 Regular price $109.00
Find our four best blends to help keep the mind and body focused all day long in this beautiful tea box.
Here you'll find delicious blends along with a recommended daily routine to help balance the body, fight the effects of aging and free radicals, and help reduce stress and inflammation. We recommend enjoying the four bends in this sequence:
Mornings: Turmeric Ginger Chai
After lunch: Jasmine Green Tea
Later in the afternoon: Mint Detox
Before bed: Drift Away 

Here's why...
Wake up with a powerful cup of Turmeric Ginger Chai
Native to tropical South Asia, ginger and turmeric have been used as tonics for thousands of years. Turmeric is known for helping the body fight free radicals and reduce inflammation as well as its adaptogenic properties. Ginger has powerful bioactive compounds that help with everything from nausea to fighting oxidative stress.  
The black tea contains caffeine, polyphenols and the aminoacid L-Theanine. In a cup of tea you'll find less caffeine than a cup of coffee. However, the L-Theanine found in tea helps remove the elements that are responsible for the subsequent crash you get after the caffeine wears off. The result is all-day energy with the unique benefits found in tea. 
Research has found that the curcumin in turmeric (the unique color) is the substance that has the most benefits for the body. Further research has shown that when combining turmeric with black pepper, the absorption rate of curcumin increases by 2,000%...yes, pepper is among the ingredients.
Turmeric Gingner Chai is an excellent way to start your day and a great coffee substitute. It will help you stay focused all day long. Oh yeah, and it tastes amazing! This truly is the best chai tea on the market, and it's organic!
Jasmine Green Tea
High in the mountains on cool summer mornings, fresh jasmine flowers are picked just after the dew has dried. The flowers are kept cool during the day. At night, when the jasmine flowers open, the green tea absorbs the wonderfully aromatic fragrance that is released. That's reason enough to enjoy a cup. But, there's more going on behind the scenes!

Green tea is probably the most studied botanical for its unique set of polyphenal compounds, catechins and antioxidants. Studies have shown that it may help with everything from weight management to aiding the circulatory system. The jasmine scent helps stimulate and relax the mind at the same time with its powerful, yet pleasant aroma.
This is a very delicate organic tea. For the best taste and to preserve the most antioxidants, limit your steep time to 2 minutes. We recommend it after lunch to provide that extra boost (and guiltless treat) to help make the rest of your day more enjoyable.
The tradition and craftsmanship of scenting green tea with jasmine spans centuries and is a beautiful collaboration between nature and ancient artistry. Our organic Jasmine Green Tea is scented with fresh jasmine blossoms, never flavored. 
Mystic Mint Detox
As an adaptogen, the lead ingredient, Holy Basil (Tulsi), has been used for centuries in Chinese and Ayurvedic practices to counteract the many emotional and physical effects of stress on the mind and body. This blend is highly recommended for those seeking to reduce anxiety, detoxify their body and maintain radiance.
Adaptogens help calm stressors and restore the mind and body back to normal levels. Holy Basil (Tulsi), may help reduce elevated levels of the stress hormone cortisol. Caffeine free, this cup can be enjoyed anytime you feel stressed or agitated. However, we suggest enjoying a cup toward the end of your day to help balance you back to normal. 
Unlike other detox teas high in caffeine, the herbs in this blend can help rid the body of environmental toxins, reduce inflammation, ease anxiety and help with weight loss all without overstimulating.
Drift Away
This blend is perfect for capping off your day and helping you find peace and quite when you need a restful sleep. The sweet uplifting floral notes from fresh chamomile paired with zesty lemongrass and refreshing peppermint make a tasty cup with an inviting aroma. 
The use of Chamomile as an herbal remedy dates back to ancient Egypt. Chamomile is now used as a natural way to ease anxiety and help with restlessness. It's special antioxidant called apigenin is believed to be behind the calming and relaxing effects. Chamomile is believed to help balance mood by reducing the stress hormone cortisol.  
This relaxing, caffeine-free herbal blend is perfect just before bed, but it can ease your tensions anytime.